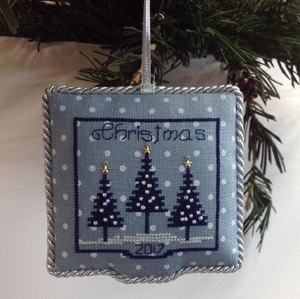 Gitta's Christmas Trees Embellishment Pack $7.50
This pattern is free, a thank you for your patronage, which will be included with all on-line and in-store purchases in limited supply. The Embellishment pack can either be purchased for $7.50 or will be included for free in all orders over $75.00. The embellishment pack includes all fibres, beads, star charms, and a 8" x 8" piece of 32ct Lugana, blue/polka dots.

Thank you for your patronage, without our stitchers we would not be here.